My VL Turbo BT1
---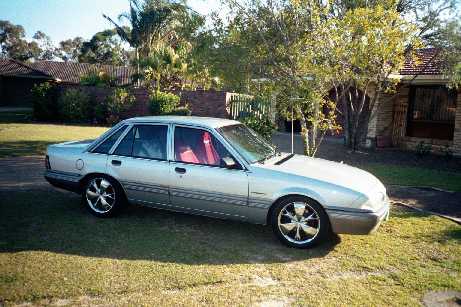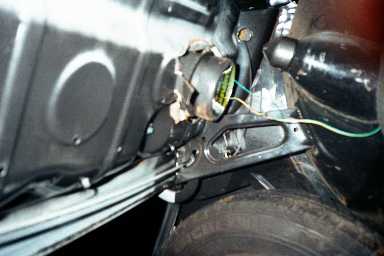 Here's the dodgy stereo install originally done for the 6 x 9's. It looks like tin-snips and a hacksaw were used just to bend the metal back without evn cutting the metal off. Wiring connections were courtesy of high quality twists accompanied by extra strength sticky-tape.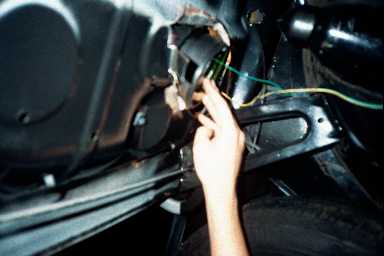 Here you can see just how well the speakers were screwed in........they weren't. We were able to just push the speakers up cause they were only hanging off the parcel shelf. I didn't get any pics of this, but the parcel shelf hole was also a quality job using precision tools such as a pencil to draw the outline, a ruler to measure distances, and a hammer to cut the hole.
Needless to say, this problem has now been fixed. Phil and I spent 3 days of our holidays building a new parcel-shelf, which the speakers are now securely mounted onto. We have jst placed the old parcel shelf over the top of it for the moment until I get it all completely carpeted. Until then it looks completely stock, and a lot cleaner with a lot of extra strength.
We also cleaned up the great metal bending work done into the boot. Didn't take us long, just tin-snips, the leatherman and an angle-grinder for good measure. Unfortunately I didn't get any pics of this building process as we were too busy actually building it. Next to come though is the custom boot so I can mount the amps properly which are currently residing in dad's car.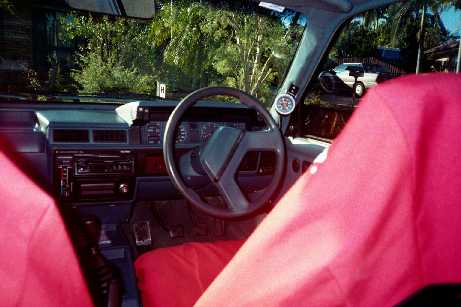 Even though the interior is looking pretty bland at the moment, it's coming along. The steering wheel is getting replaced with a Momo race item, which dad is getting me for my birthday (even though thats been and gone, we just need to go out and actually get it!) The old Sanya CD head unit has been replaced by a 4x50watt Sony CD...I love it! And still to come are the Momo pedals + the Momo F16 shift knob.
I've just got the funky Snap-on seat covers atm, but I've put my order in for christmas for sheepskin covers all round.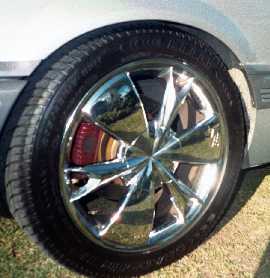 I actually don't know what these wheels are, but I know they're 17x7.5 running on 235/45 Kelly rubber. They're the same wheels as seen on the VL Calais "BOOSTN". Behind them you prob can't see, but there are DBA cross-drilled and slotted rotors.